THE SOUL OF ADOLESCENCE ALIGNS WITH THE HEART OF DEMOCRACY
Orphans,Rebels and Civic Lovers Unite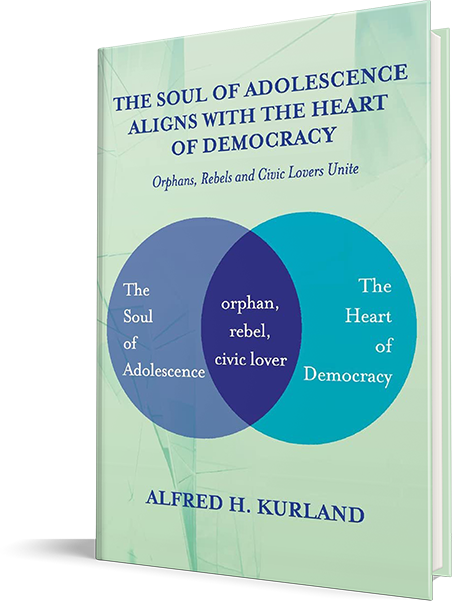 The book is in part of memoir, incorporating the author's personal experiences which align to those of the people he serves, and an exploration of the his path undertaken through stages of learning and leading over a period of three decades. It is also a roadmap and a manifesto making an argument that in order to understand and effectively work with teens, we need to treat them not as problems to be solved but rather as problem solvers for issues we share in common.
The book is a constructive critique of old paradigms about adolescence which dismiss, demean and sabotage their contributions and understanding of their true nature. It is education, utilizing modern scientific research, wisdom of traditional spiritual insights, and the current studies of youth development and community organizing. It uses an informal tone, embedding evidence within reflections of direct experience and experimentation. The tone is critical, but optimistic and hopeful.
-We all are stuck in a society of rapidly declining positive outcomes in part because we have outdated and destructive paradigms about adolescence.
-When teens are invited in civic partnerships on a basis of equal ownership of the civic franchise, and by infusing the unique viewpoints of youth, both their personal development and the communities they serve derive beneficial outcomes.
-Social justice and civic reform efforts continue to value and benefit from evolving understanding of best practices in civic engagement. In the 21st century, our evolution continues to evolve as we incorporate the findings of depth psychology and spiritual wisdom. As we begin to understand and utilize the basic character of adolescent identity – the search, as an orphan, to find one's authentic life purpose, empowering the rebel, with the deconstruction of false narratives addressing teen identity, and the reconstruction of empowering personal and communal relationship stories, and the celebration of the civic lover, as we forge an alignment of one's most productive potential with the higher angels of democracy.
-Adult co-mentors who keep their inner adolescent alive work most effectively and empathetically with adolescents and co-create thriving communities.
(pages 12 and 13): "The second scenario (describing the author's personal experiences) involved the loss of my roommate, who was murdered, not because of any wrong doing on her part… The choice I made was between exercising hypervigilance (which has since been documented as common to those who experience trauma), withdrawal and isolation, or, finding one's allies with common experiences such as mine, who would offer their embrace and support."
"Almost every single member of Female Finesse and the Coaches Who Care (teen advisory councils to the Ivy League/Uptown WINs and the Uptown Team Dreamers) obtained college educations… This dual benefit was shared by Myra Linares, the daughter of ex-Councilman Guillermo Linares. Myra played the position of catcher for two seasons. She told me that she had come to her team as an extremely shy and introverted person. The demands of her position, to be vocal (and loudly so) as well as to direct her teammates on the field, had changed how she had communicated. (Later on in life) she had been assigned to a community affairs position for Governor Andrew Cuomo… It is only when we find our voice that we get to make the choices that have originated within us."
"What separates co-mentors from traditional mentors is that these trusted relationships are no longer based on top-down relationship, with the adult being assumed to have exclusively valued sources of wisdom and preferable practices for governance. Co-mentors are in a side-by-side, or shoulder-to-shoulder relationship with teens, where adults respect and respond to their perspectives, knowledge and offerings given by teens… Co-mentors begin with the end in mind: Be eccentric, go forth as a navigator, and adhere to a dedication for enhancing holistic development of self and society."
BOOK REVIEWS:

'The Soul of Adolescence Aligns with the Heart of Orphans, Rebels and Civic Lovers Unite by Alfred H. Kurland is a non-fiction memoir and study in which the author uses their personal and professional experiences to deliver a solid behaviorism analysis of youth, and the impact of such experiences, with the world at large. Kurland breaks the book down into four distinct and interconnected parts to build up the text as a whole, Part one, Induction, is a profoundly honest deep dive into three key events that became the bedrock upon which Kurland's advocacy and empowerment work with teens is built. Part two, Forward/Backward and Inside/Out, details the four definitive phases in Kurland's journey and what each phase strengthened him with, and what he himself was able to give of himself to those he served at that time. Part three, Introductions, is Kurland's written revolution against the outdated, imprudently ascribed psychology that has been misattributed to teens in the past, the sub-titular archetypes, and mentor/co-mentor relationships with true and 'meaningful influence. Finally, part four, Afterwards, embodies the 'movements, practices, recommendations, and change that should be employed to encourage participation and mold teens into the leaders they are capable of becoming, and that we need them to be. 'There is so much to unpack after reading The Soul of Adolescence 'Aligns with the Heart of Democracy, and I daresay that even at its length | am likely to start reading it again almost immediately. | have never—ever—had as many bookmark tabs on my e-reader as | do now. Alfred H. Kurland is the person everyone dreams of having in their community. As a parent to a teenager who is not only a strong young woman of color but who is also passionate about some serious social issues, it has been heartbreaking to watch her get hamstrung by adults who either will not listen at all or who disregard her simply because of her age. Kurland speaks of the murder of a roommate, a shocking and horrific event that begins as the top layer of all that follows as each is peeled back. At the age of sixteen, | also lost a friend and classmate to murder, but in reading Kurland's account | am forced to admit that its impact was not something | addressed properly. | now look at my daughter and see what Kurland, via a leader named David, has put into my lap. It is important to be compassionate to myself, and equally compassionate to others. Is it possible that my internalizing of trauma leads to a cycle of the same with my daughter? Is it possible that she and others, "…after being subjected to negative stereotyping and, too often, dark expectations, learn to internalize these voices and to harshly criticize themselves…"? I can do better. We can do better. And we must. Very, very highly recommended.
-Jamie Michele-
BOOK REVIEWS:

| am an immigrant to the West from a third-world country, setting my foot down on British soil, alone, as a teenager and an economic refugee. | am brown, a Muslim, and when | arrived my English was limited to the bare-bones basics. | am what Alfred H. Kurland would put into the archetype of 'orphan', and am convinced now having read The Soul of Adolescence Aligns with the Heart of Democracy that if a program with teen input had existed, the transition would have not left me with the emotional scars that will never heal. Kurland is an academic and the latter half of his book reflects this. It has the distinctive formula of a dissertation, counterbalanced with individual stories to elevate it beyond. Unlike a dissertation, it is highly unlikely Kurland would need to defend it. The facts and stories are a powerful combination and prove that "Adolescent development and civic efficacy each evolve successfully when subject to a full measure of attention." This book is a must-read.
-Asher Syed-
BOOK REVIEWS:

The Soul of Adolescence Aligns with the Heart of Democracy: Orphans, Rebels and Civic Lovers Unite by Alfred H. Kurland looks into the concept of empowered teens, the untapped potential of teens, and the contributions that some teens he worked with brought to the city of New York. Alfred exposes some biases, which are based on negative stereotypes, about teens—in terms of their age, culture, sex, and national origin. The author advocates for the utilization of adolescent assets—social and emotional styles of intelligence—in community problem solving and at the municipal level of governance. The book is filled with diverse insights, including several profound ideas that the author gained while working with teens and while growing up and the different concepts he gleaned from other individuals. With the detailed, logical references and discussions in the book, Alfred H. Kurland helped me to unlearn the different biases about teens and their level of maturity that | learned from the ill-informed opinions of teachers and elders while growing up. The Soul of Adolescence Aligns with the Heart of Democracy is quite comprehensive and packed with information about several subjects, including loss, archetypes, conscious civic work, chakras, narrative storytelling, the wisdom of the soul, bodily awareness and intuitive intelligence, trauma, and much more. | loved that the book includes enough references for further research purposes and several stories, about inspiring individuals and deeds. Teachers, world leaders, lay leaders, parents, and youth workers around the world will learn a lot from this book; perhaps, considering the opinions of our youths would dissuade us from our destructive patterns and save the planet for the current and future generations.
-Foluso Falaye-