THE SOUL OF ADOLESCENCE ALIGNS WITH THE HEART OF DEMOCRACY
Orphans, Rebels and Civic Lovers Unite
The Soul of Adolescence Aligns with the Heart of Democracy follows the author's compelling journey of discovering his life's purpose. The author evolves in his understanding of adolescent potential and wisdom through direct involvement with youth and communities. Developing a portfolio of meaningful engagement with young leaders and communal movements requires gradually shedding unconscious bias. The author's journey reminds readers that acknowledged and affirmed teen participation results in young people finding their full potential and communities becoming sustainable.
REVIEWS

"Al Kurland has taken on a formidable task; he is asking us adults to stop ignoring the future. We do precisely that when we fail to understand how our biggest debt is incurred when we fail to arm, protect, and train our young people to be prepared for a troubled world what adults have created for them. They will be inheriting the absolute mess we have created with the world's climate, and they will be struggling with the political outcomes of nearsighted, racist decision-making policies that will leave them to cope with a nation and a world that is horribly divided against itself. Al makes it clear; we need to do better. This book will help us to figure it out."
-Dr.Robert E. Fullilove-
Associate Dean for Community and Minority Affairs at the Columbia School of Professional Studies.
REVIEWS

"Al Kurland has been a champion of youth civic participation in New York City for over three decades. This book makes a valuable contribution to the Youth Studies literature by recounting historical and current movements to garner political power for and with New York City's youngest citizens. Learning from the hard-won struggle to serve on Community Boards is imperative for a new generation of youth and adults as they fight to lower the voting age, increase participatory budgeting, create the schools they deserve, move us toward restorative justice, and push elected officials to engage in intergenerational youth policymaking. Telling these stories of the past, including our triumphs and missteps, is critical to the evolution of youth movements in our city. I am grateful for this powerful personal narrative and dynamic history of youth movements in our city."
-Ph.D. Sarah Zeller-Berkman-
Ph.D. Director of Youth Studies at CUNY SPS and Director of the Intergenerational Change Initiative
REVIEWS

"Al Kurland is a visionary, but his vision for a stronger democracy and a healthier society is grounded in experience and relationship. His programs are continuously co-created by him and his many collaborators, including teachers young and old, as well as friends. We all stand to learn from his example, and the lessons of his lifetime of work, which is defined by listening to and advocating with and for young people. After joining the teens on Community Boards campaign, I witnessed his humility, mastery and persistence first-hand. He taught me so much about letting young people lead, about knowing your strengths, and levering others in collaborative partnerships. His work is about building stronger programs and fighting for structural reform. This book is an inspiration for all of you who know there must be a better way, from one who has helped to blaze the trail, one courageous conversation at a time."
–   Sarah Andes-
Former National Director of Programming for Generation Citizen
REVIEWS

"At times, as an adult, I feel like a small fish in a big pond when dealing with the issue of promoting youth voice and power sharing. I work with youth services staff daily. In observing their methods of promoting youth engagement, I often see them as using teens as tokens in the process and reserving decision-making exclusively for adults. In our civic practices with teens, there is a need for a language and a cultural shift to change the narrative of hierarchical thinking and the place of young people in civic engagement. This change of course, with both conceptualization and practice demands of us some deep reflective thinking. Authentic power sharing uses a holistic developmental paradigm, provides opportunities for cultivating responsive adult/adolescent relationships, and promotes joint creation of vital resources for our schools, our communities and municipal governance. I thank Al Kurland for sharing insights about these practices in his book."
– Diane Shirley-
NY State T-Tap School Age PD Specialist and NY State School-Age Credential Trainer
REVIEWS

"Early in my career, I had the honor of working with Al Kurland with the Police Athletic League's IN STEP Program. (In School Training and Employment Program) My role was to support our Youth Advisory Council and to facilitate the process of planning and hosting a citywide youth forum. During this period, I witnessed the incredible capacity of youth to be brave, to be creative, and to be engaged in their communities. In my experience, teenagers regularly demonstrate leadership, commitment, and vision.  With one of our teen leadership initiatives, I took part in a campaign ford obtaining the right of fully vetted sixteen-and seventeen-year-olds to serve on New York City Community Boards. As the field of youth development evolves, let us embrace the reality that the voices, action, and dreams of our youth will shape the future."
– Marcel Braithwaite-
Board member of the New York State Network of Youth Success
REVIEWS

"Mr. Kurland is a fervent advocate of the term "youth civic engagement." He has been committed for decades to serving his communities. His service includes having been a lead coordinator for the Teens on Community Boards campaign. Al has also been my civic soul mate in the Youth and Police Building Bridges initiative, which advocates for improved communication and partnerships with the NYC Police Department's Neighborhood Policing program. A theme of this campaign, as with his book, is that when adolescent leaders are included in the civic problem-solving process, the building of trustworthy relationships with adults creates faith in one's neighborhood by all stakeholders."
–    Fe Florimon-
Chair of the Youth Services and Education Committee for Community Board #12 Manhattan. Former Borough President appointee to the Community School District #6 Community Education Council.
REVIEWS

"In my seventeen years as the Principal of PS 128 in Washington Heights, I experienced many challenges related to over-crowding, split sessions, and budget constraints. I sought effective afterschool programming which engaged my most vulnerable students. When I opened my doors to Al Kurland, Dave Crenshaw, and the Uptown Dreamers, hundreds of students were coached and involved in art projects, sports, homework help and much more by teens from the neighborhood. These teens were caring, involved, and responsible for the decisions to implement projects. This afterschool approach provided teens with a framework of ongoing communication and affirmed involvement with the program. Teen volunteers were trusted by adult staff (who were also volunteers) and became instrumental in shaping one of the most effective afterschool programs under my tenure. Many of these teens became advocates against injustice and moved on to become model professionals in our community."
– Blanca Battino-
Former principal of PS 128M ( Manhattan); RTI Specialist; SEL trainer; and Vice-President for Community Services with Faith, Hope, and Charity
REVIEWS

"Teens have always been the secret weapon the Uptown Dreamers Program. One of the prime lessons I learned, while still a Hunter High School student years ago, was the prime importance of figuring out that at my core I was more than what I wore. It took the collaborative efforts of school staff and my fellow students to help me to figure this out. Each teen is like a cloud, what you see on the outside is only a cover for what is on the inside. Any given teens possesses their own source of strength. They can bring on thunder and lightning, or a summer shower to cool us off. Even when encountering a teen's inner storms, a mentor must reach into the cloud, through the turbulence, even though the cold and hail, to find the gold within, and the silver lining. Every young person contributes to constructing a rainbow.  If you develop a relationship with a teen while believing all of this, you can find what enriches the character of a teen and assist them in generating a multiplication of social responsibilities for the common good. When working from places of authentic partnership, 1 plus 1 adds up not to 2, but equals 11. Every student is a star, and it is up to us, as trusted adults to help them shine."
– Coach Dave Crenshaw-
Founder of the Uptown Team Dreamers, community coach, and Black Health Specialist
REVIEWS

"Living in the southern section of Washington Heights in the nineteen eighties had its positives and its negatives. As a young girl relocating from Liberia, living in the United States was quite a cultural shock. Fortunately for me and my siblings, Al Kurland helped to challenge all of that when he built a youth program in Washington Heights. Al helped to shape the minds of young people through various sports programs, allowing us leadership opportunities and providing us with advocacy trainings. Through his dedication and hard work, beginning in the nineteen eighties, and continuing thereafter, moving on with my life was no longer a cultural shock for me. Washington Heights became a great place to live for me."
– Miriam Payne-
Founder teen volunteer leader for the Uptown Dreamers and the Southern Heights afterschool program
REVIEWS

"Years ago, I was a teen who had been involved with the Police Athletic League's IN STEP program. I took an active part in the campaign for obtaining the right of sixteen-and-seventeen-year-old teens to serve on New York Community Boards. I had to learn the process of advocacy and organizing, as these were new to me. As teen leaders, we worked with youth development professionals, and with New York City elected officials such as then City Councilperson Richie Torres, who was a strong advocate for our campaign. I gained exposure to the world of politics and the workings of municipal government. I am now serving as a Center Director for the Police Athletic League at the Washington Heights Armory. I now use the same techniques of empowerment that I learned as a teen, while I develop sports readiness and mental health programs for youth enrolled, beginning in elementary school, and continuing through high school."
– Ramon Spence-
PAL IN STEP alumni,  Robert McGuire Scholarship Award winner and PAL Armory Center Director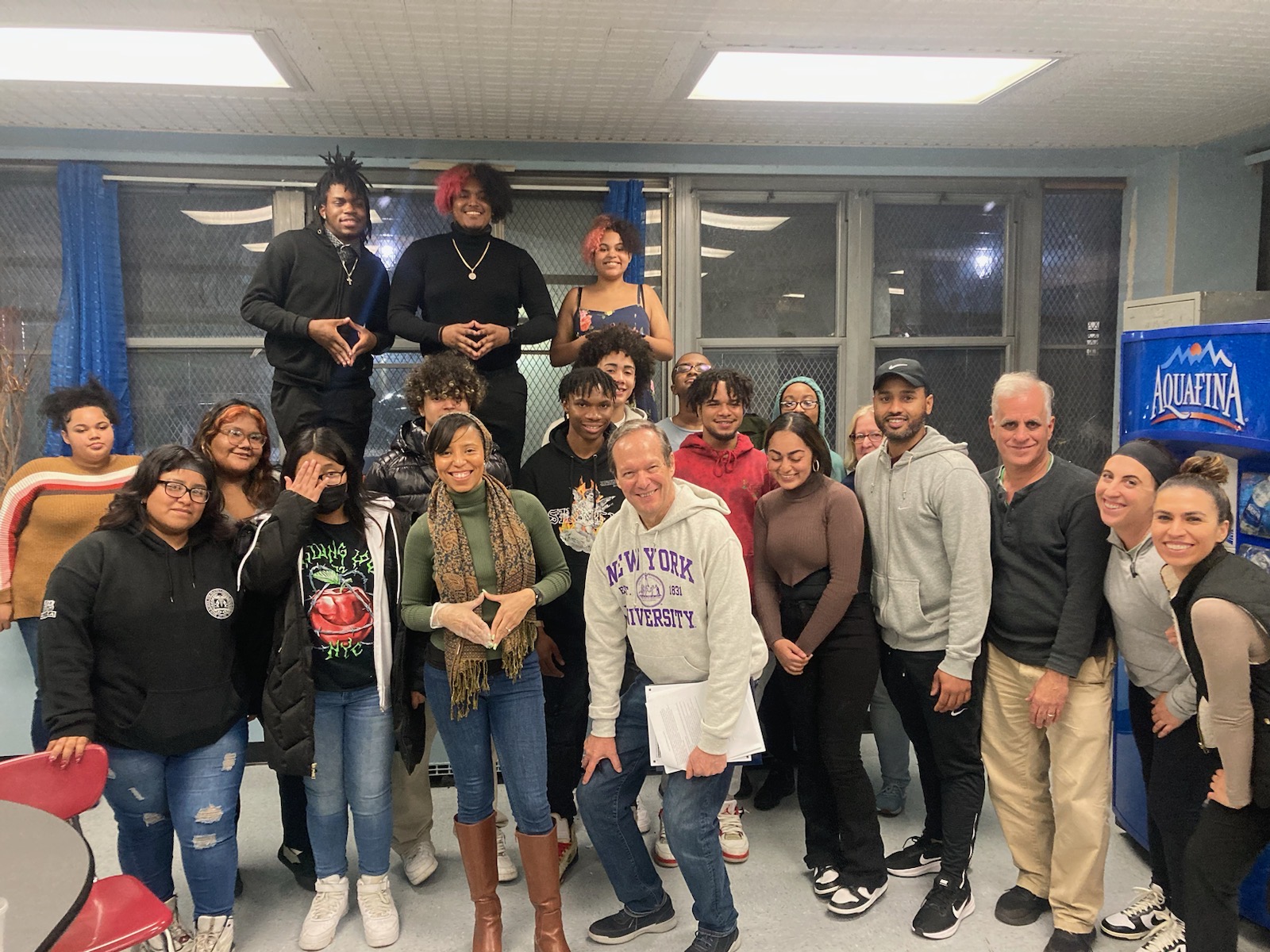 interview with community activist Maria Luna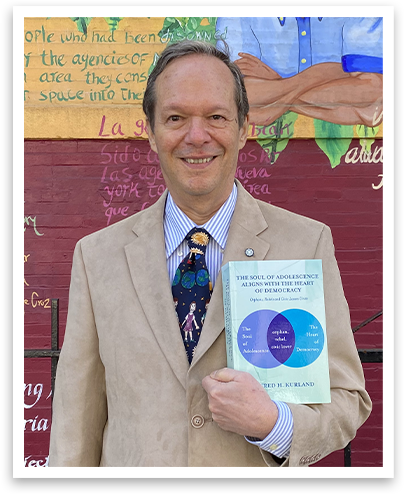 Al Kurland has a bachelor's degree in Political Science from York College/CUNY and a Master of Arts degree in Special Education from New York University. His post-graduate education has continued on the streets and in classrooms in New York City. He has been a youth services and teen empowerment advocate and program manager since December of 1984.
Photo by Nicholas Kusuma on Unsplash Over time, the youth's view of their physical appearance affected how they looked at themselves with ...